Overview
The PPTC External Quality Assessment [EQA] Programme commenced in 1985 as an evaluation process of students attending residential courses. This was enhanced when the PPTC was conferred Collaborating Centre status by WHO, and further expanded with the introduction of a regular HIV/STI testing component.
Pacific laboratories differ considerably in the levels of instrumentation, equipment, methodology and expertise available to them and thus the evaluations of the responses received from them must recognise these different levels of technology.
The major purpose of this programme is to actively help and suggest ways in which a laboratory can improve the quality of its service to the patient. The Centre's staff have visited the majority of laboratories presently enrolled in the programme and funding is received from the New Zealand Ministry of Foreign Affairs & Trade [MFAT, NZ Aid Programme) and the New Zealand Insitute of Medical Laboratory Sciences (NZIMLS).
In 2019 there are over 100 laboratories from 20 countries participating in all or part of the programme and  these include:
        21       National Laboratories   (Pacific Island Countries)
7       Divisional Laboratories (Pacific Island Countries)
1       Laos PDR Laboratories
        58      Cambodia Laboratories
2       Timor Leste  Laboratory
3      Bhutan Laboratory
8       Private Laboratories
Laboratories are given five weeks to process the survey and return their results to the Centre. A final reply also details the laboratory score for the exercise, their accumulated score for the previous dispatch in that discipline, and the average score for all participating laboratories.
Each laboratory is identified by a unique code number, with the generated results kept confidential to that laboratory, the PPTC, the WHO Regional Adviser of Health Laboratories at the Regional Office in Manila, and the relevant department at the NZ Ministry of Foreign Affairs and Trade in Wellington.
2020 EQA Registrations
Please complete and email the registration form to pptc@pptc.org.nz. Click to download the form here: REQAP Registration Form 2020
2019 Dispatch Schedule:
You may download the 2019 PPTC EQA Dispatch Schedule here - PPTC EQA Dates 2019 Participant Copy .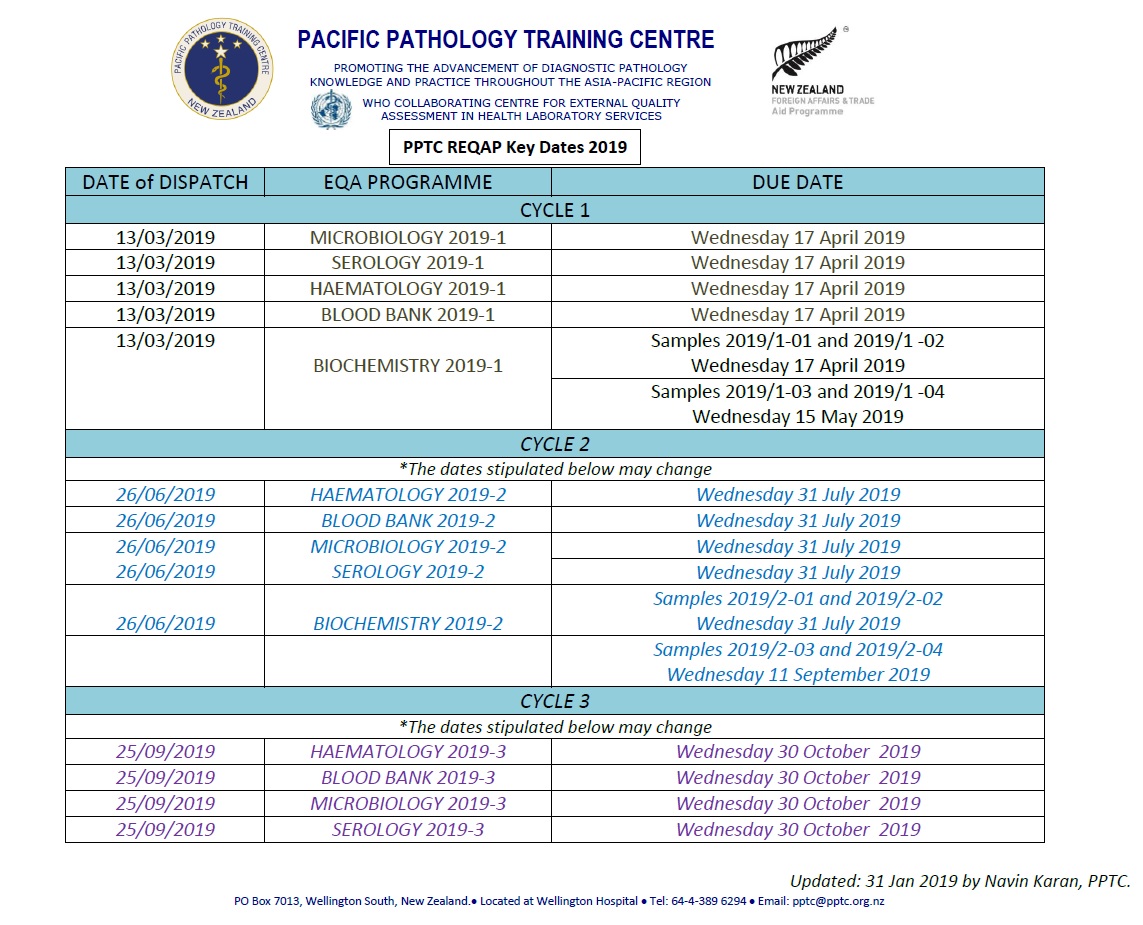 For further information contact: Navin Karan, Programme Manager, PPTC, PO Box 7013 Wellington, New Zealand Telephone: 64 4 389 6294 Email: navink@pptc.org.nz