Wellington Lab Hosts Pacific Scientists
Published on: Awanui- The Lab- 21st April 2023
Acknowledging Awanui- The Lab for this publication.
Last week, our team at the Wellington hospital lab welcomed scientists from the Pacific Pathology Training Centre (PPTC) for a tour of the laboratory.
"The PPTC does great work in providing training and support for medical laboratories across the Pacific and South-East Asia. These visits are an opportunity for their scientists to see first-hand the work we are doing, all our equipment and automation, and to support their continuing education," says Wellington Operations Manager Max Reed.
PPTC senior manager Russell Cole says the new staff and students at the Centre are "scientific missionaries."
"All our scientists have different specialist areas and will be involved in consultation work across the Pacific region's laboratories.
These labs are often not as technically advanced or automated to the level we see here in Wellington, so this visit enables our scientists to build their knowledge, future vision and expertise, so they can train the trainers across the Pacific and inspire them towards international accreditation standards of practice."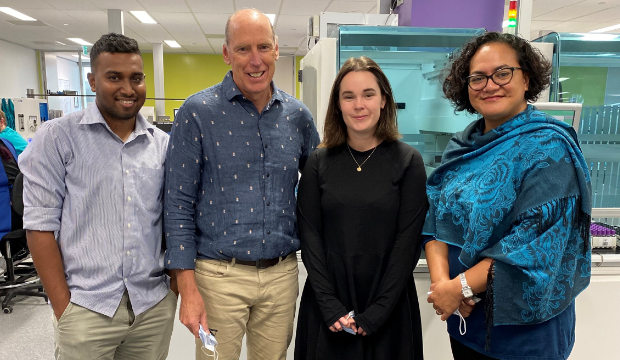 L-R- Emmanuel Marshall (Consultant Laboratory technology and Information Systems and Education Manager, Russel Cole ( Laboratory Quality Manager  and Microbiology Specialist), Angela Lewis (Consultant Molecular Testing Platforms and Portable Laboratory Projects Manager, Telesia Apikotoa (Consultant Laboratory Quality Management and Blood Transfusion Specialist)